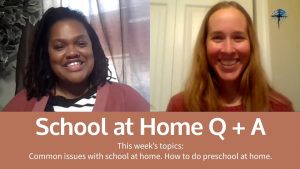 School at Home Q + A episode 5 is here! Our topics are: common issues with school at home and how to do preschool at home.
Listen to Jo Scott and Rebecca Berry discuss these questions in this week's episode.
Find the resources mentioned in this video here: https://drive.google.com/file/d/14hhri48efJ8qtOSImm51wW_diDOTPXMX/view?usp=sharing
Have a question? Send it to HomeAtSchool@christianfellowship.com OR join in on the poll on our School at Home Community Facebook group.
Read More