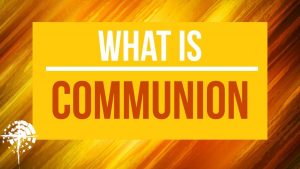 It has been said – Man is what he eats. God created man as a hungry being. The question we ask today is – What are we hungry for?
Jesus says in John 6:33 – 'For the bread of God is He who comes down from heaven and gives life to the world.'
John 6:34 – give us this bread always.
Alexander Schmemman said, "Original sin is not that man disobeyed God. God created us to be hungry for Him and for Him alone. Original sin is that we ceased to be hungry for God."
God gave mankind the raw materials of His creation and said be fruitful with it. Our task was to transform the raw material and fill it with meaning, spirit and the life of God.
When mankind shifted his hunger from God, mankind went into exile. A wall of separation came between God and man.
Man and all creation were here, and God was there.
And from this original sin, instead of living generously,
man lives selfishly. Instead of seeing the abundance of God,
man can only see scarcity.
Mankind never has enough. Man is never satisfied. Man has been hungering throughout time, but he knows not what for. Each of us has a hunger.
When Christ came he was the promise of the Father to meet our hunger.
John 6:35 – he who comes to me shall never hunger nor thirst.
The Lord's Supper, Communion, The Eucharist is a sacrament. What is a sacrament? – A sacrament is an outward sign of grace. It is not a sign of what we do for God. It is a sign and a seal of what God has done for us. Eat my flesh, drink my blood is a full-on, radical expression of grace:
John 6:37 – the one who comes to me I will in no way cast out.
John 6:40 – everyone who believes in [me] may have everlasting life, and I will raise him up on the last day.
John 6:51 – if anyone eats this bread he will live forever
John 6:54 – whoever eats my flesh has eternal life
John 6:56 – he who eats my flesh abides in me and I in him.
John 6:57 – he who feeds on me will live because of me.
All these words are grace unearned, unmerited, unlimited.
A sacrament is a transformation into new life and new creation.
It is a passage into the kingdom of God.
Jesus is Life itself. – Life with a capital 'L.'
He is the Life of all life. All things animate or inanimate and all tasks have their life in Christ.
Paul says – for the earnest expectation of the creation eagerly waits for the revealing of the sons of God. The whole creation groans and labors with birth pangs together until now.
He makes it sound as though inanimate life has life in it.
There is a humorous story of a woman who attended a Catholic Mass with her boyfriend. She did not understand the ritual. But after communion, she burst out:
'Look, the priest is doing the dishes!' He's washing the plates and cups, rinsing them, and wiping them dry. This very symbolic and powerful expression of faith suddenly had a very domestic look. – Jesus is the Life of all life.
One guy talked about when, as a kid, he would look at the parade of people who would come forward for communion – what a hodge-podge of people.
Communion is to see the parade of the Body of Christ coming to Him. It is to see not a sameness, but to see how different we are.
Men and women, young and old, wealthy and poor, educated and uneducated. There are no insiders in the line, none who are deserving. It is not the spiritual ones first or the mature ones first.
The Lord's Supper is a grace-filled community event. We come together not by our sameness. We come together not because we judge or condemn the same groups. We come together not because we are all conservative Republicans or liberal Democrats. We come together not because of common politics, or common class, or common skin color, or anything else that separates us
or puts us above another in our own mind.
We come together because Christ defines our life, gives life, makes us see life not from the lens of this world,
but through the lens of His person.
We are not a brother or sister because we agree about everything. We are brother and sister because Christ has brought us to Himself.
The church looks distinctive from the institutions that man builds because it is what Christ is building. The church is not a group that is for itself and against the world. The church lays down its life for the life of the world. Unless we are doing that, we are just playing religion.
When the church celebrates this sacrament of communion it becomes a sacrament itself. The church becomes the passage, the transformation, the outward sign into the Kingdom of God.
The church becomes this picture of grace.
When we eat we have eternal life, will be raised up on the last day, will not be cast out, have Christ abiding in us and us in Him.
Man is what he eats.
Let us eat his flesh and drink his blood, for it is true food and true drink.
Read More