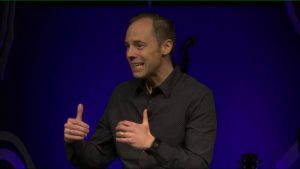 As we start 2019, Pastor Michael Acock teaches on Fear, Hope & Courage in this Epiphany sermon.
What are you afraid of this year? Do you have New Year resolutions? Are your resolutions grounded in fear?
"Those who leave everything in God's hands will eventually see God's hands in everything."
FEAR
What are you afraid of?
Fear tells us God is not with us. Fear tells us God is not with us.
Deuteronomy 31: 6-8
"Be strong and courageous. Do not fear or be in dread of them, for it is the Lord your God who goes with you…Be strong and courageous…It is the Lord who goes before you. He will be with you; he will not leave you or forsake you. Do not fear or be dismayed."
Psalm 23
"Even though I walk through the valley of the shadow of death, I will fear no evil, for you are with me; your rod and staff they comfort me."
Psalm 46: 1-11
"God is our refuge and strength, a very present help in trouble. There we will not fear though the earth gives way, though the mountains be moved into the heart of the sea, though its waters roar and foam, though the mountains tremble at its swelling."
Oppression is a state of the heart. The more you fear, the more you are worried about what might happen or not, the more you come under oppression.
2 Timothy 1:7
"God gave us a spirit not of fear but of power and love and self-control (sound mind)."
Beth Moore says that the fear causes us to trade for an overwhelming, pervasive feeling of powerlessness.
Fear has strategies:
Strategy #1 To get you to agree that fear is reasonable, logical, natural, normal and even healthy.
Strategy #2 To get you to allow fear to paint a picture on the canvas of your imagination of impending trouble, difficulty, loss, hardship, failure, disappointment or tragedy.
Strategy #3 To get you to agree that what the spirit of fear is saying to you is truer than God's Word. Fear will speak lies to your mind and they will sound very plausible for the purpose of gaining your agreement.
Strategy #4 To get you to say with your mouth what fear is saying to your mind.
Strategy #5 To get you to take counsel of the spirit of fear.
There are four fearful assumptions:
1. Uncertainty is unsafe.
2. I can't handle losing what I cherish.
3. It's a dangerous world.
4. I am all alone.
Here are four courage-cultivating truths:
1. Uncertainty is the gateway to possibility.
2. Loss is natural and can lead to growth.
3. It's a purposeful universe.
4. We are all ONE.
HOPE
Biblical hope is a confident expectation of what God has promised and its strength is in HIS Faithfulness.
Isaiah 40: 31
"Yet those who wait for [hope in] the Lord shall renew their strength; they shall mount up with wings like eagles; they shall run and not be weary; they shall walk and not faint."
Romans 5:5
"…and hope does not put us to shame, because God's love has been poured into our hearts through the Holy Spirit who has been given to us."
COURAGE
Joshua 1: 6-18
"Be strong and courageous…Only be strong and very courageous…Be strong and courageous. Do not be frightened, and do not be dismayed, for the Lord your God is with you wherever you go…Only be strong and courageous."
"Courage is not about being fearless; it's about letting fear transform you so you come into right relationship with uncertainty, make peace with impermanence, and wake up to who you really are." – Lissa Rankin, MD
When we listen to fear, we become hopeless, courage falls and love is restricted.
When we challenge fear, we embrace hope, courage rises and love is released.
We live-stream our sermons every Sunday morning at approximately 9:50 and 11:50 am, and be sure to subscribe so that you never miss our sermons, announcements, devotionals, and other great video resources. You can find even more resources from Christian Fellowship on our website.
Read More