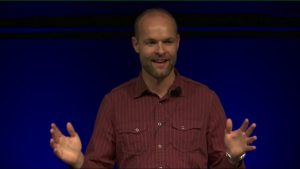 And at the climax of the Apostle's Creed comes this statement: "I believe in the forgiveness of sins" What an incredible statement, what an incredible thing – he forgiveness of sins. Turn in your Bibles to John 13, as we begin to prepare our hearts for the season leading up to Good Friday and Easter.
There was a time when shame didn't exist. Can you imagine? Life without shame. I think that's hard for many of us. Shame tells us that our sin defines us—or that the sins of others define us. It tells us we're not worth loving, that we better find some masks to cover up our sense of inadequacy. "You're no good." "You're not loved." "You're a failure." "Disgusting." Shame.
Genesis 3:10, "And the Lord God called to the man and said, 'Where are you?' And he said, 'I heard the sound of you in the garden, and I was afraid, because I was naked, and I hid myself.'"
Many of us carry shame—as a result of our own sins and failures, the ways we don't measure up—in our eyes, in God's eyes, in the eyes of others—or from sins committed against us that have left us feeling a deep shame about ourselves.
And this is why the church, through the ages, has confessed, "I believe in the forgiveness of sins." We have real guilt. We have done wrong. And because of it, we carry a deep sense of shame.
Only God can cover our nakedness. Only he can deal with our guilt—and undo our shame. What we need is to be served by God.
There are two layers of meaning in John 13 – two ways to read and understand this story.
The first: to see here an incredible act of humility in Jesus washing the disciples' feet – what an example!
You can imagine the surprise as Jesus takes this low position: their Lord, their teacher, the one they were pretty sure was the Messiah – stooping to wash their feet. What humility. What an example of the kind of king he is. And of how his servants are to be.
And Jesus knows that "his hour had come" – the focal point of his whole life – it's all driving toward the Cross – where he becomes the Passover lamb – whose blood is shed to save his people – and his triumph over sin and death, his victorious return to the Father as the victorious king and ruler over all things – that hour is here.
What is this foot-washing really about? The foot-washing is about the cross—Jesus ultimate act of humility where he serves our deepest need. It's about forgiveness of sins – about him bearing our guilt and our shame – and washing them away with his blood shed for us that we might be with him, reconciled to him
Adam and Eve—and all of us after them—have attempted to cover ourselves, to wash ourselves, or to ignore the dirt and filth on our feet—we've sought countless ways—unsuccessfully—to deal with our own sin and guilt and shame
And This is God coming to serve us. Through this washing, we become his people – we are reconciled to God, guilt removed, shame taken away, and restored to that relationship Adam and Eve experienced in the Garden of Eden
"Unless I wash you, you have no share with me." You can't do it on your own, give up your pride, your hiding, your self-effort to be enough or do enough and let me serve you
"If that's what it takes to know you, then wash all of me, every part, not just my feet, Lord." "I know myself – I know my failure – it's more than just my feet; wash all of me"
Here he adds another element to this foot-washing lesson—when you've bathed when you've been washed – you're clean – at the core And your feet may get dusted up as you live in the world – but the deep cleansing work is already done. Peter says, "Wash all of me" – and Jesus says, "You're already clean"
"I'll gladly kneel to serve you once more, to reapply my grace, to remind you of my work on the cross that has already made you clean to the core."
To hear Jesus say, "You're already clean; my cross is more definitive, and I am glad to kneel and serve you again, so run to me, don't hide from me. Come to me and confess your sins and let me cleanse your feet. You're already clean at the core – already accepted – already loved – already forgiven – already right with God
"What if I sin again?" – have I ruined it? Have I messed it all up? "I will cleanse you from all your sins."
The cleansing of the cross is a once-for-all cleansing – Our feet get messy and we run to him to be washed, but the foundational and fundamental cleansing is already settled.
We can get honest instead of hiding – because we're loved – because the cross has already settled that
Subscribe to our channel for weekly live-streamed sermons, bible devotions, and more! You can also visit our website for even more resources; plus, we'd love to hear from you!
Read More