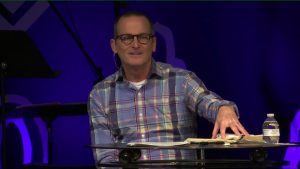 In a good story – a great book – I don't want it to end. I want the tale to go on. Even when I have finished a book, I am both satisfied and wanting more. I want to pick up another book, or even start the book over again. I don't say to that great story – 'Entertain me.' I say to it – 'Pull me in.' Grip my heart, my imagination, my conscience, my emotions, and my deepest yearnings. The Bible story does all that.
In Luke 1:10-20, I am reading the birth of Jesus accounts which are found in Matthew and in Luke. But I am also reading Revelation alongside those accounts of Jesus' coming. I am not doing this to get more knowledge of the birth of Jesus story – I know the story – I am doing it to revive my imagination to bring me into the Divine Imagination of God as He reveals Himself through His only begotten Son.
The God of the Bible is an interactive God. He sends, brings, speaks, provokes, and awakens not just our conscience but also our imagination. People are being pulled into God's revelation of Himself. That's how the Bible demands to be read.
In other words, the Bible wants to be read as a story. If you are engrossed in a 'whopping' good story, you aren't stopping to ask every minute, "What does this mean? Did this really happen? Why did this happen?" Or even: "Do I believe this?" You are meant to be swept along in the direction that the storyteller carries you. And the storyteller is God Himself.
For this reason, Bible reading should begin very early in life, and classic children's literature should be read along with it.
If you're reading a classic fairy tale to a child, you don't stop every few paragraphs to say, "This is what this means," or, "This is what you are supposed to learn," or, "This is what you are supposed to do now." Stories have a power of their own, and the Bible which is one expansive story – the greatest story ever told – has a power uniquely its own.
Luke 1:20 0- "my words which will be fulfilled in their own time." The Advent word for today is Hope. But hope in what? For Christians, it is a hope in a promise. Hope and promise are future words. Hope and promise are not words that linger in the past.
Advent means 'coming'. Advent is not just about the 1st coming of Jesus; it is also about His second coming. Advent is the season between the times – the waiting and longing coming of the Lord. At Advent, we look both backward and forward.
He is saving us into His future. He is saving us into our future. It is more than saving us from our past. God is bringing us onto the side of His future. God is on the move. He is acting on our behalf.
God is out ahead of us. He is moving toward us even if we are not moving toward Him. His promise to us is not empty.
Christmas is not a break in our routine. It is a break in the universe. If we don't see this, we will just sentimentalize and neutralize Christmas. In that baby lies the only hope for mankind – the only hope for me. Romans 10:11 – For the Scripture says, 'Whoever believes on Him will not be put to shame.'
He brings a promise – a word of hope for us. This is not a human promise that may or may not be kept. This is not a human wish.
This is God saying as part of the Biblical – the God – story, "I am coming now. Here, at this point in time, in this manner, into the story of this world and into the story that I am writing, and you will behold and marvel at my ways."
This hope we have as an anchor of the soul, both sure and steadfast, and which enters the Presence behind the veil. Hebrews 6:19
For all the promises of God are Yes, and Amen in Christ Jesus to the glory of God through us.
Subscribe to our channel to watch sermon live streamed every Sunday at approximately 9:50 and 11:50 am respectively. You can also learn more about us on our website at ChristianFellowship.com.
Read More