Saturated: Gratitude and Prayer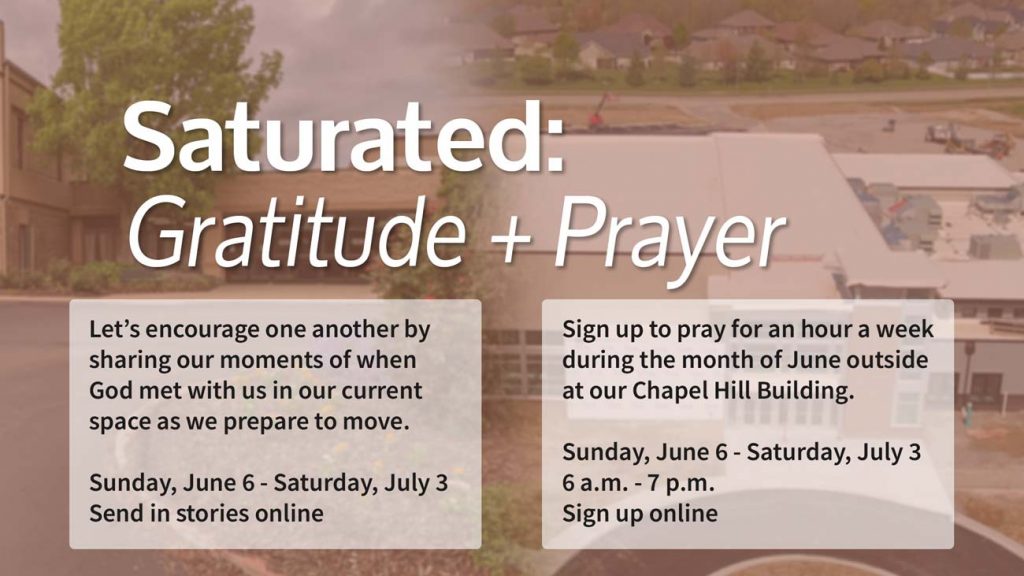 Starting June 6 we will take time to share moments of gratitude for all God has done among us in our current building and pray into what He will do in our future space. We recognize that this change is significant physically, emotionally, and spiritually, and the one thing that is imperative is giving ourselves to prayer as we are taking steps to enter into our new building and new setting.
Sharing Moments of Gratitude:
As we release this space into the ministries God will expand through it we want to take time to share our moments of when God met us in this space. Please share your moments of gratitude with us HERE. We will share theses stories anonymously on Sundays and throughout the week throughout the month of June.
Prayer:
We have set up a schedule for the month of June for people to come out to the property and pray for an hour a week for about four weeks. Because it is still a building site, we ask that you pray outside, you are free to walk the property as you pray.
Prayer Focus Suggestions:
Sunday: corporate worship
Monday: Word of God
Tuesday: Servanthood
Wednesday: Spirit-filled living
Thursday: devotion to prayer
Friday: missional mindset
Saturday: genuine community
Spend time praying these values over the children's space, over the auditorium space, over the foyer, office, multipurpose room, classrooms, exterior spaces and over all the associated ministries of the church.
Details:
Date: Sunday, June 6 – Saturday, July 3
Time: one hour a week between 6 a.m. – 7 p.m.
Location: Outside at new building (5045 Chapel Hill Road)
Registration: Sign up for your prayer time here